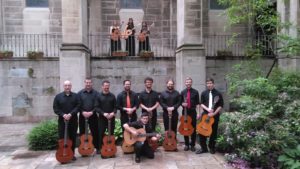 The Pittsburgh Classical Guitar Orchestra will not be meeting for the remainder of the 2018 calendar year.
The Pittsburgh Classical Guitar Society's guitar orchestra is a great musical experience. Open to players of all levels and ages, the orchestra performs often throughout the year, featuring concerts in the spring and fall.
Rehearsals are held at Hope Academy–inside East Liberty Presbyterian Church–every other Tuesday from 8:00 pm until 9:30 pm.
East Liberty Presbyterian Church
116 S. Highland Avenue
Pittsburgh, PA 15206
If you're interested in joining, or even attending a rehearsal to check it out, contact the orchestra's director, Ben Meyer.
[email protected]
(217) 502-2869